Holiday Activities
FEBRUARY 2023 PROGRAMME OUT NOW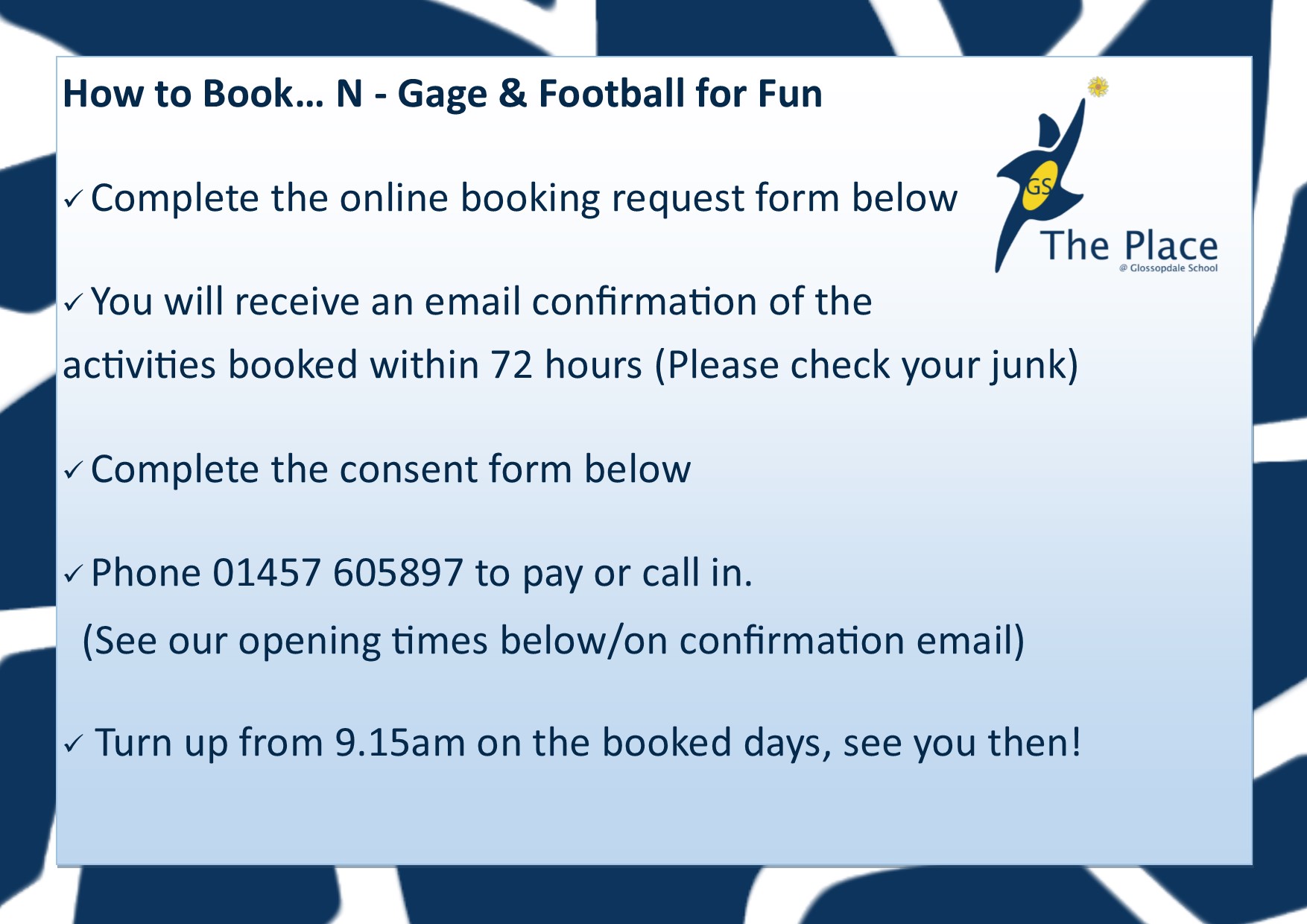 Click here for FEBRUARY programme
If a session does not appear on the booking form, it is fully booked. To be added to the waiting list for any sessions please email theplace@glossopdale.school
Football for Fun is now fully booked for all 3 days.
Please email to be added to the waiting list.
To book on any of the activities please complete the online request for booking form at the link below:
Before attending any activities we require a consent form completing for your child. You do this electronically at the link below. (If you completed this since Easter 22 & no information has changed, you do not need to complete this time)
More about the sessions this February
Sweet Treats & Craft gifts: Creating some sweet treats & making them into gifts for home
Hogwarts Day: Everything Harry Potter! Games, crafts, computer games & more!
Pokemon Day: All things pokemon... crafts, games & more!
Bangles, Bracelets & Hama beads: Make an assortment to take home.
N-Gage Mash up & Movie Day: Our 'best bits' available to chose from including cupcakes decorating, gaming, crafts & sports. Followed by a movie with treats in the afternoon.
Please note:
Movies shown will be PG or U rated.
Please come to all sessions which involve activity in suitable clothing & footwear, with plenty of drinks.
Please do not send your child with nut products
Please do not attend if your child feels at all unwell.
Registration is from 9.15am, unless early drop off has been pre booked.
Ways to Pay
Option 1: Pay over the phone by card (evenings from 5pm - 8pm & weekends 9am - 3pm)
Option 2: Call to 'The Place' reception. (evenings from 5pm - 8pm & weekends 9am - 3pm)
During the school day
Option 3: Payments can be made in cash or cheque to the main school reception (please note this should be the correct money & clearly marked with the child's name.)
Early drop off/ Late pick up
Is available each day from 8.30am until 4pm. This MUST be booked in advance.£3 per session or £5 if early & Late sessions are booked on the same day.
For more information about our holiday activities please email theplace@glossopdale.school or call 01457 605897